Getting Around: Cities, Streets, and 'Shared Space'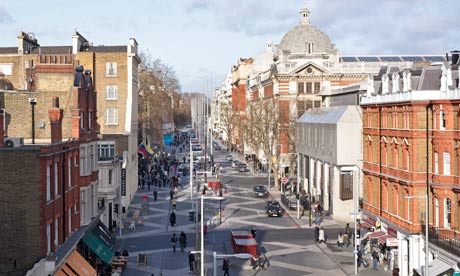 From The Economist:
For years urban planners have emphasised the needs of the motorist over those of the pedestrian. Thanks partly to greenery, partly to a greater understanding of how pedestrians behave, and partly to concerns about social cohesion, priorities are changing.

London provides two good example of this shift. On February 1st Exhibition Road, a landmark street near many of the city's museums, is being formally reopened after a three-year construction project to turn it into something that transport engineers like to call a "shared space". Kerbs have been stripped out, along with the usual road markings, to create a thoroughfare that is designed to be shared by cyclists, pedestrians and cars alike. The idea, adopted from continental Europe, is to create an area which is not just more pleasant for people on foot but also safer because it encourages drivers to pay closer attention to their surroundings. 

Less experimentally, big improvements have already been made to Oxford Circus, one of the city's busiest intersections. The junction between Oxford Street and Regent Street sees as many as 40,000 people pass through every hour, and only 2,000 vehicles. Until 2009, however, pedestrians came well down the pecking order. In the language of planners, pedestrians were unable to follow their desire lines, the paths they want to take as opposed to the ones they are meant to. At Oxford Circus, giving rein to people's desire lines has meant ripping out guard railings that hemmed pedestrians in and allowing people to cross the junction diagonally as well as from side to side (a feature known as a pedestrian scramble). 
Check out the rest of the article here. The Independent's 'Walk on the wild side: Pedestrians could soon be on equal footing with cars' and the Guardian's 'Exhibition Road, London - review' both profile the pedestrianization project and are worth a look.
(Photo credit: The Guardian)